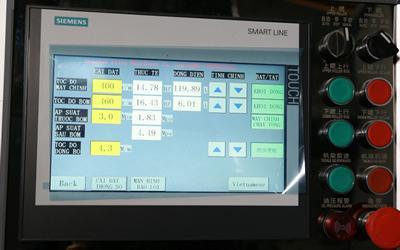 Siemens display screen
Features
1. Utilizing a hydraulic gear, this plastic thermoforming and thermoplastic equipment works in a stable manner, and is easy to operate and maintain.
2. The use of a four-column structure ensures a stable forming and high precision.
3. The chain retreat device makes it convenient and safe to exchange molds.
4. The machine is digitally controlled by a PLC industrial computer for easy, efficient operation.
Technical support
1. Elite Machinery offers custom molds for customers according to the plastic products your company will be producing.
2. The entire machine design meets international safety standards, and a CE certificate will be supplied upon request.
3. This cam servo motor cup making equipment can be modified to meet specific customer needs, and we have a senior engineer on hand to offer professional reference advice.
4. This cam servo motor cup making machine is easy to maintain, and our professional technician can come to your factory to debug, install, train and guide, as well as offer related after-sales service.
5. The warranty period for the machine is one year, with electrical components covered for 6 months.
ELITE Plastics is manufacturing plastic forming and sheet extrusion equipment, such as sheet extrusion line for various plastic materials like PE, PPT, PS, PET, etc. and offers the custom thermoplastic machines and thermoforming equipment and other plastic thermoforming machines. With almost 20 years experiences of manufacturing plastic machines, ELITE Plastics can provide any client good plastic thermoplastic and extrusion machines.
Index
thermoforming equipment, plastic forming machine, polypropylene thermoplastics, polyethylene thermoforming, polystyrene thermoforming, PET thermoplastics